5 tags
Quick Thoughts on The Packers Draft Picks
2.)  Jerel Worthy, DT, Michigan State:   Like most collegiate d-linemen, Worthy coasted at times, but that won't fly in the the NFL.  Anyone who saw him play knows Worthy's explosiveness and ability to penetrate are rare for 305 pounds.  The Packers DL Coach (Trgovac) is going to have to stay on him to develop him into the player the Packers want him to be. 3.) Casey Hayward,...
6 tags
Quick Thoughts on The Packers taking Nick Perry
The Packers were in desperate need for a pass rusher opposite of Clay Matthews, who was double- and sometimes triple-teamed last year, and they landed USC DE/OLB Nick Perry (6' 3", 271 lbs) with their first pick in the 2012 NFL Draft.  Perry is a physical freak (4.64 40, 35 reps on the bench, 38.5 vertical, and 124.0 inch broad jump), who flashed big-time ability during his...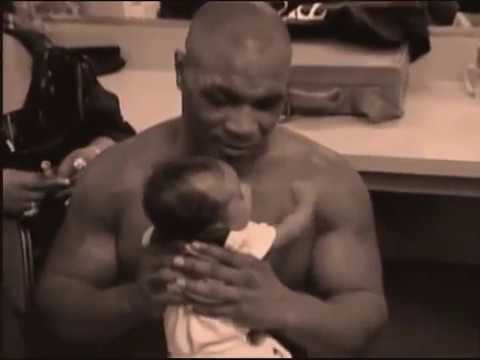 Watch
Alabama coach Anthony Grant's pre-SEC tournament press conference (via AL.com)
I Knew The Saints Were Dirty Back In '09
It was blatantly obvious during the 2009 NFC Championship that the Saints were trying to injure Favre by any means necessary, whether it was a clean hit or a blatantly dirty/late hit.  The tone was set early in the game when Favre was carrying out a play-fake to Percey Harvin, and was intentionally hit late by the Saints DE two to three seconds late.  All the Saints fans I know couldn't...
Aaron Rodgers answers my question on "The...
2 tags
The 10 Recruits I'm The Most Excited About
It is very difficult to pick just ten guys in this class because the coaching staff picked up so many outstanding prospects yesterday, with probably the best class we've signed since 2008, but I'll give it a shot.  I tended to lean more towards the prospects that I thought had a better chance making an impact in the near future. Landon Collins – S – How could a Bama fan not get excited about...
List of prospects on campus for Junior Day
Here is the list of players that supposedly made it to Tuscaloosa for Junior Day: Robert Nkemdiche, DL, Loganville (Ga.) Grayson -  Reuben Foster, LB, LaGrange (Ga.) Troup County -  Altee Tenpenny, RB, North Little Rock (Ark.) West -  Hunter Henry, TE, Little Rock (Ark.) Pulaski Academy -  Kendell Beckwith, DE/OLB, Jackson (La.) -  Tim Williams, DE, Baton Rouge (La.) University -  Jake...
TeamSpeedKills.com: Quantifying Alabama's... →
Link: Evaluating Alabama's Defense →
Aaron Rodgers for MVP
Peter King did a  pretty good job explaining why he voted for Aaron Rodgers over Drew Brees as the Most Valuable Player in the NFL:   The MVP dilemma. Brees made it a horse race, and more than that. In the end, early this morning, I struggled with what to do with my vote, one of 50 for the annual Associated Press NFL awards and All-Pro team. I could go Brees, or I could go Rodgers, or I could,...
Armchair Film Review: Tennessee
With "The Game of The Century" just a few days away, I figured it might be time to get back on the horse and start posting again.  Here are my brief, procrastinated thoughts about Bama's 37-6 vicory over the Vols. That was a pretty bad INT by AJ at the beginning of the game, when he did not see the UT linebacker drop into coverage, and threw the ball right to him.  But on the...
Armchair Film Review: Florida
Alabama worked over the Florida Gators to the tune of 38-10 last Saturday night in The Swamp.  Here are a few notes and observations from the cheap seats… Well, a couple of my preseason predictions are looking pretty good at this point.  One was that our defense would be better than it was in '09, and the second one was that Trent would win the Heisman.  We'll see how the...
Armchair Film Review: Arkansas
I didn't do a write-up after the North Texas game because it was so boring, and almost like Bama was playing against air.  But Alabama beat Arkansas 38-14 last Saturday. Here are a few quick, random thoughts about the game from a bored guy at the office.  Good luck running the ball against our defense.  Saban's defensive philosophy is to take away the running game and the middle of...
Film Room Study of Saban's Defense →
This is a great breakdown of Saban's defense from the website Roll Bama Roll.  So, if you've ever wanted to waste time at work, while attempting to learn more about split-safety coverage, pattern matching, or in-phase coverage, then grab a Red Bull and get ready to hit the film room.   NOTE:  Make sure to click on all the links at the end of the write-up that are under the heading...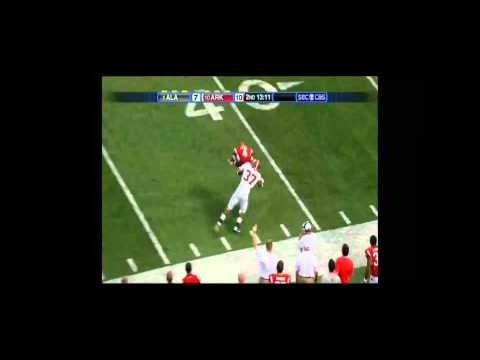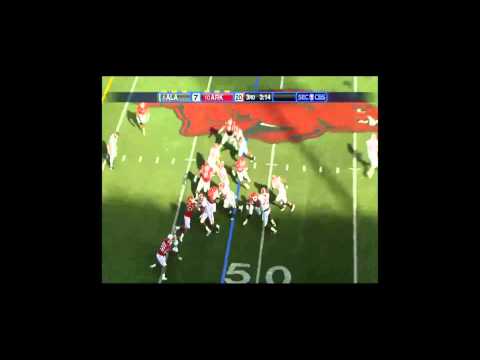 1 tag
1 tag
Armchair Film Review: Penn State
Alabama beat Penn State 27-11 last Saturday.  Here are a few quick, random thoughts about the game.  As good as our defense is, one area they can improve is on pressuring the QB with our front 4.  We're stout against the run, but we need a few guys to develop into interior pass rushers with the ability to push the pocket and affect the opposing QB's ability to step up in the pocket....
1 tag
The Armchair Film Review: Kent State
Alabama beat Kent State 48-7 last Saturday.  Here are a few of my quick, random thoughts about the game. Vinnie Sunseri and Trey DePriest will be very good special teams player players for us this year.  Maybe even the best. We need a D-Lineman to push the pocket and effect the QB, making it harder for him to step up in the pocket.  I believe Jesse Williams will develop into that guy.   Maze...
1 tag
Watch
Geno Smith explains why he committed to Alabama.
Geno Smith to Bama!
Alabama lands top CB prospect, and possibly the top CB on their board, Geno Smith! Big get for Saban & Co. with the possible departure of up to 3 top CBs from this year's squad (Dre Kirkpatrick, DeQuan Menzie, and Phelon Jones). A top-tier CB prospect is obviously a top priority in this class. Here's a column from AJC.com:   ...
1 tag
1 tag
1 tag
Procrastinated A-Day Thoughts
AJ McCarron's botched snap/fumble on the one-yard line will definitely be a HUGE negative during film review.  You can't make mistakes like that if you want to be QB1 at Alabama.  The fumble was actually returned for a TD by Mark Barron.  Imagine if that happened in the LSU or Auburn game…. It seems like AJ needs to work on sliding in the pocket once things start to break down.  When pressure...
1 tag
The Give & Go: Florida Review
Well…. THAT was a beat down.  I guess a combination of Florida's best half of basketball coupled with one of our worst will result in a perfect storm in the form of a 78-51 loss in Gainesville.  With a few bubble teams losing this week, we still have a shot at making the tourney but now the Georgia game this Saturday a "must win" for us to have any chance.  It's...
1 tag
The Give & Go: LSU Preview
I'm going to keep this one short.  Alabama is scheduled to tip-off against LSU tonight in Baton Rouge at 9:00 EST on ESPN.  Alabama comes into the game winning 11 of their last 13 games and leads the SEC West with a record of 8-2 (16-8 overall).  Bama won the first meeting 70-46 in Tuscaloosa, but this should be a tougher task tonight on the road.  LSU has been struggling, losing their...
2 tags
The Signing Day Soothsayer
Disclaimer:  I am not an insider, nor do I pretend to be.  These predictions are based off a combination of interviews, rumors, gut instinct, and a few tarot cards. Jadeveon Clowney - There has been some buzz that him and his mom were throughly impressed with Alabama on their official visit, and that Bama is a certainly a major factor in his recruitment.  I think his mother is comfortable with...
3 tags
The Give & Go: Basketball Progress Report
Alabama's basketball team is currently sitting atop the SEC West at 4-1 in the SEC, with an overall mark of 12-7.  The team is playing much better now that SEC play has started, so let's take a quick look at how they've been playing lately.  The win over #12 Kentucky was a big win for Anthony Grant and the program he is trying to build in Tuscaloosa.  Although Kentucky is not as talented as they...
1 tag
Alabama Lands 2013 PG
Alabama just received a commitment from 2013 point guard Jaren Sina.  Here's what ESPN says about him.   Strengths: Sina is a super skilled guard with a lethal jump shot. He has an effortless stroke that is virtually automatic when in rhythm from anywhere inside of 25 feet, is equally effective shooting off the catch or the dribble, and can also make tough contested shots late in the...
2 tags
1 tag
Trying To Make Sense of the Cam Newton Fiasco
It's hard to make sense out of anything the NCAA does, but what were they thinking with the recent ruling that Cam Newton is eligible to play?  It sounds like more of a declaration that Cam is currently innocent until proven guilty to me.  I guess it shouldn't be a surprise because the NCAA has always seemed like an organization that makes their rules up on the fly, and Auburn has always been a...
1 tag
1 tag
Armchair QB Prediction: Mississippi State
The big question going into this game is how Alabama will respond after the big loss in Baton Rouge last weekend.  Will the leaders step up?  Does this team have real leaders?  Is the team morale shot after losing to LSU?  Hopefully we'll get some answers to those questions this Saturday, but I'm still expecting an ugly game against the Bulldogs. When Bama has the ball: Will the...
1 tag
Armchair QB Review: Tennessee
Offense: I was glad to see us get back to the pistol formation against the Vols.  That was pretty much our bread-and-butter formation last year, and we got away from it the two previous games.   I think Greg McElroy played his best game of the year.  I've been disappointed in his performance this year, but he played well against the Vols - showing toughness and an ability to connect on...
1 tag
Armchair QB Review: South Carolina
I'm sorry this post is a little late.  It took me a few days to get the song "Sandstorm" to stop ringing throughout my skull and forgot the nightmares of Greg "I don't know how tho throw the ball away" McElroy taking his 25th sack.  Well, on to some of my thoughts.  This is going to be short because I'm moving on from this game. McElroy has got to learn...
1 tag
Armchair QB Prediction: South Carolina
On the road to Columbia, so this one will be short and sweet. When South Carolina has the ball: Alabama will be able to contain Lattimore in this game, which will put most of the burden on the shoulders of Gamecocks QB Garcia. It seems like Garcia is one of those players that will eventually put it together and have a great game, but this isn't the game where that happens. Alabama will contain...
1 tag
Straight Cash, Homey
What kind of impact can we expect Randy Moss to make on Minnesota's offense this season?  We'll, let's see… Moss is now 33-years old, and has had a reputation his entire career for being somewhat of a one-trick pony that will beat your team deep.  Although that's all he's been known for, Moss has been extremely effective stretching defenses his entire career....
1 tag
Armchair QB Review: Arkansas
"If it takes this to be a champion, that's what we've got to do," Dre Kirkpatrick Ok, so I was a little off with my prediction last week because I never thought our 5th-year QB would play so poorly in the 1st half, throwing two careless INTs (one in the endzone, and one that led to an Arkansas TD right before halftime).  McElroy was throwing the ball a little late, one...
1 tag
Armchair QB Prediction: Arkansas
This is going to be a game between two QBs, but the guy with all the hype is going to get outplayed by the guy most people refer to as a "game manager."  Arkansas must either run or throw short passes on early downs in order to stay out of third-and-long situations.  Nick Saban and Kirby Smart love forcing opponents into third-and-long situations and then dialing up the pressure to...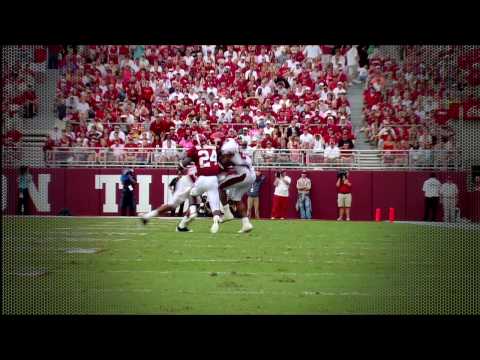 1 tag
Armchair QB Review: Duke
Some quick thoughts on Alabama's 62-13 win over Duke…. Nick Saban's Alabama squad came out pretty focused and determined against Duke on Saturday afternoon.  It would be easy to come out against an outmanned Duke team and give a lackluster performance, but Bama set the tone early with the quick 3-play TD drive and 28 points in the 1st quarter.   Good blitz pick-up by...
1 tag
Finebaum: Alabama is back on top, and order is... →
It took a Mount Rushmore moment on Bear Bryant's birthday for order to be restored in the wacky world of college football. BCS bashers, get out of the way. Crawl back into the hole you've been hiding in all summer. And next time, look both ways at the railroad crossing before running your mouth.  (Click title to continue reading)
FALL SCRIMMAGE #2
FALL SCRIMMAGE #2 *Statistics include 11-on-11, situational drills, red area, goalline, 2-minute PASSING LEADERS Greg McElroy - 10 for 18, 134 yards, 1 TD, 2 INT A.J. McCarron - 11 for 23, 110 yards, 1 TDs, 0 INT Phillip Sims - 11 for 18, 132 yards, 0 TD, 0 INT RUSHING LEADERS Eddie Lacy - 15 rush, 61 yards, 0 TD Mark Ingram - 12 rush, 46 yards, 0 TD Corey Grant - 11 rush, 41 yards, 0 TD...
Stats From Alabama's 1st Scrimmage
ALABAMA FOOTBALL - FALL SCRIMMAGE #1 (August 14, 2010) *Stats include 11-on-11, situational drills, red area, goalline, 2-minute PASSING LEADERS Greg McElroy - 26 for 33, 360 yards, 6 TD, 0 INT A.J. McCarron - 21 for 26, 241 yards, 2 TDs, 2 INT Phillip Sims - 5 for 10, 97 yards, 1 TD, 0 INT RUSHING LEADERS Mark Ingram - 9 rush, 28 yards, 1 TD Eddie Lacy - 8 rush, 24 yards, 2 TD Trent...
1 tag
Will Masoli Make An Impact At Ole Miss?
I'm starting to think that Masoli's impact at Ole Miss will be pretty minimal.  Mainly because of the lack of time he'll have to get a complete grasp of the playbook and develop a chemistry with his receivers and the rest of his teammates.   Obviously, Masoli will be QB1 on opening day because I doubt Houston Nutt would assume the risk of bringing Masoli in to have him backup...